Food waste in Irish homes increases substantially over Christmas
Sustainable Waste & Resource Management
Food Waste – let's do something about it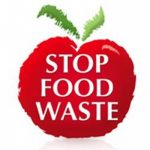 Food waste in Ireland is a real problem and it is costing the average Irish Family €700 each year.
Most of our food wastage ends in landfills where it has significant local environmental impacts.
But long before we even buy our food there are a whole lot of other environmental costs associated with getting our food into our trolleys.
HOW MUCH FOOD DO WE WASTE?
In Ireland there is over 1 million tonnes of food waste each year.  Around 1/3 comes from household waste which means that at home each person is throwing out about 80kg of food each year.
This doesn't seem much but we have a population of over 4million people and its adds to too much.
While some food waste cannot be avoided, the majority of it could be saved if we managed our food better.  And this will save us money too.
In general, we throw out three types of food:
60% is avoidable food waste – includes plate scrapings, leftovers, gone off fruit & veg, passed its date perishables etc.
20% is potentially avoidable – things like bread crusts, potato skins etc.  These are food wastes that are often related to habits and, as with any habit, changing can be hard.  For those of you at the resource management night held in the Sligo Park in 2014 Joe Shannon told us to use the breadcrumbs to feed the birds, and to freeze for your next roast chicken dinnerr. Remember, you can roast your potato skins with some olive oil and paprika!
20% is unavoidable food waste – includes chicken bones banana skins, peelings etc.  Your brown bin collects all of this household food waste. Visit  www.brownbin.ie for more information. When the waste collector empties your brown bin, the contents are taken to a dedicated composting plant where it is specially treated and turned into high quality compost. This can be used in gardens, landscaping projects and  on agricultural land.
Challenge your household to make inroads into reducing the avoidable food waste. It will save you money.
How can you stop food waste?
1.       Know the food you continually waste and ask yourself why?
a.      To begin to save you need to know how much you waste
b.      Record it.
c.       Put a reason why it is wasted.
2.       Plan your week ahead
a.      Write up a detailed list for the week ahead
b.      Know what you already have in the cupboard
3.       Shopping – this is the one place you waste food before you even know it!
a.      Go prepared
b.      Stick to the shopping list/plan you brought with you
c.       Check your savings from the week before
4.       Store foods correctly
a.      Know how to store correctly
b.      Use it right – within date.  Freeze what you can
5.       Cooking & Serving
a.      Proper portions – an overloaded plate leads to an overloaded bin.  Know what portion sizes are needed for adults and children.
b.      Reuse leftovers – learn about the magic art of the loaves and fishes.