It's 'Jail And Bail' Time In Sligo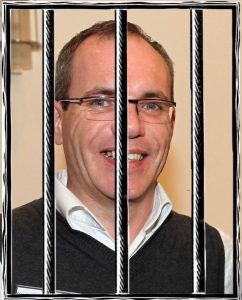 The 'Sligo Jail & Bail' fundraising event, organised by the Friends of Sligo Gaol, takes place this Saturday, February 13th, in Johnston Court Shopping Centre in Sligo.
It's a fun fundraising effort for the conservation and promotion of the old jail in Sligo.
The prison was built in 1818 and was an important facet of Sligo town until it closed 1956.
People are now being asked to nominate someone to be charged with a 'crime' and then imprisoned in a specially-made cell in Johnston Court in Sligo on Saturday.
Funds are raised when people raise money to release or 'bail' their imprisioned friends.
A number of well known Sligo personalities are taking part, including Sligo Tidy Towns volunteer Des Faul (pictured).
For more event information, click here.
Friends of Sligo Gaol is a non-profit community group of volunteers with a keen interest in Sligo Gaol and its place in the history and heritage of Co. Sligo.
The aim of the group is to provide community support for the conservation of Sligo Gaol, and to promote greater understanding and public awareness of its history and heritage. It also aims to work towards the eventual opening of the Gaol to the public.