Sligo's Christmas Lights Turning On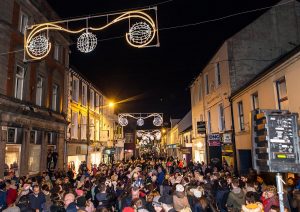 Stick it in your diary, Saturday November 24th!  The day Sligo Lights up for Christmas and the day one local shopper and one local business could prizes valued at €500.
The annual switch on promises to be a real buzz of activity this year as Santa and his Elves will tour the town in the afternoon delivering over 1000 hats to Sligo Businesses and shoppers spreading the Christmas cheer. The lucky prize winners will be announced during the live broadcast with Ocean FM!
Once Santa has delivered all his hats, he will then officially 'Hit the Switch' at 5.30pm on O'Connell Street alongside Sligo Mayor Cllr Rosaleen O'Grady. Festive Face Painters will be on hand to brighten up faces on the day.
The fun will begin early on the 24th as Ocean FM will host a live outside broadcast on O'Connell St from 2-6pm. Watch out for some fun interviews and giveaways on the day. If you can't wait 'til then, tune in each morning from November 12th, to the Niall Delaney show as he gives away some amazing prizes from Armin Lowe, The Cat & The Moon, Henry Jewellers, Cait & I, Kate's Kitchen, Higgins Pharmacy, EJ Menswear, EJ's Little Sister, Collery's Menswear and WB's Coffee House.
Sligo BID is asking all Businesses to get involved for this years' event and to dress up their Business for the lighting up event. So whether it's a Festive Fuinneog, a Decorative Door or some 'Santarrific' Staff Outfits, everyone can get involved. The winner will be chosen on the day by a group of judges.
Watch out on the Sligo BID Facebook page for event updates and some samples of the Best Dressed Businesses in town.
A companion event will take place earlier in the day with the turning on of 'The Blue Tree' at Sligo Credit Union's new premises on Wine St. (formerly the Clarence Hotel). The lighting will recognise the commitment and care of the ThisAbility group – who comprise parents caring for persons with disabilities, their parents, siblings and other family members.
Also on the day you'll have a chance to help the environment by picking up one of Sligo Tidy Towns very popular, reusable tote bags in exchange for a teeny-weeny donation. Sligo Tidy Town volunteers will be stationed on O'Connell St.
Sligo BID would like to thank all the businesses who contributed to this year's lights and prizes and also project partners Sligo County Council and Sligo Leader.